Mum Central is an Australian website and online community for mothers. It provides a wide range of resources and information for mothers, including parenting tips, recipes, product reviews, and advice. To kick off 2023, they have compiled an extensive list of the Best Cleaning Products for 2023 and we're thrilled that our EnduroShield Glass Treatment was featured in the article. Here's what Mum Central says about EnduroShield:
Love the sparkling appearance of a brand-new shower but hate the scrubbing?
Toss your scrubbing brush away, because EnduroShield makes your glass look cleaner for longer, saving you both time and money! That's right, you'll be super smug about your sparkly clean glass for longer with an EnduroShield protective glass treatment.
Cleaning shower glass would have to be one of the most disliked household chores with that hard-to-budge soap scum and limescale build-up.
But no more thanks to EnduroShield. Standard glass is transformed into an easy clean, non-stick surface which remains water and oil-repellent. Not only fantastic for showers but it can also be used on pool fences, car windows, house windows and mirrors for a sparkling finish.

Best Sellers - Apply Once - A Single Applciation Lasts 3+ Years
EnduroShield is simple to apply!
EnduroShield is simple to apply and comes with a cleaner, polishing pad and coating – all suitable for new and existing glass around your home. Providing an invisible coating and barrier, it repels soap scum and grime to reduce cleaning time by up to 90% and protect the glass from staining over time. Simply clean it with a microfibre cloth and mild detergent. Like magic.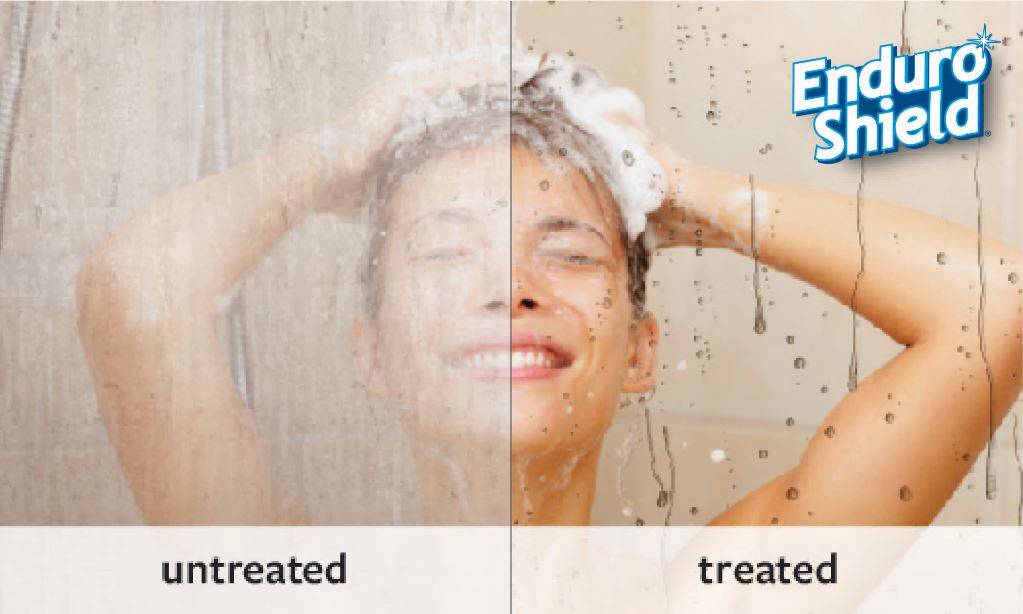 "It means that I don't clean our glass anywhere near as often and when we do it's so much easier and faster. I can't believe it took us so long to find out about this!"
Applied to OVER 1 MILLION shower doors with 10+ years of proven performance.
Very easy to use and my shower looks as good as new
"Thank you very easy to use and my shower looks as good as new great product the best ever to bring shower glass back to the very new look my shower been in for over five years and glass now looks like it was just put in thank you"
I was amazed at how easily it went on

"I was amazed at how easily it went on. It seems to do a excellent job on the windows. I used it on my car windows and also my shower door and I had enough with what was given to me."
Great Product
"Have used this product on my other showers. Bought this for a new shower remodel. Great product."
Absolutely recommend this product!

"Absolutely recommend this product! Easy to use and saves so much time since it's been applied. My shower doors look the way they did when they were new."